Railway Assistant Loco Pilot Syllabus 2021 available here. The latest Railway Loco Pilot Syllabus has Updated. Get Branch-Wise RRB Assistant Loco Pilot Exam Syllabus here. Check the topics and sub-topics included in the New RRB ALP Loco Pilot Syllabus. Know the Exam Pattern of RRB ALP on this page. Download RRB Loco Pilot Exam Syllabus Pdf 2021 @ indianrailways.gov.in.
RRB ALP Syllabus 2021 – Railway Syllabus for Loco Pilot
Railway Recruitment Board Assistant Loco Pilot Syllabus 2021 updated here. Contenders can get Branch-Wise RRB Loco Pilot Syllabus now. Railway ALP Syllabus 2021 is essential for the applicants. Candidates can able to plan their preparation according to Railway Loco Pilot Exam Syllabus only. If the candidates haven't got the ALP RRB Syllabus, then not get an idea of which subjects they have to focus on. So, it is a must to know the Railway Assistant Loco Pilot Exam Syllabus before the starting of preparation.
Along with the Railway Exam Syllabus, it is better to refer to the Exam Pattern also. Because by knowing the RRB ALP Exam Pattern, candidates can get an idea about the number of sections, each section marks, and time duration of the exam. For all this information, candidates need not go for more websites. Here, we have updated this examsyllabus.co.in web page with the latest RRB ALP Exam Syllabus 2021 and Exam Pattern. So, go through it.
RRB ALP Syllabus 2021

Name of the Organization
Railway Recruitment Board.
Name of the Post
Assistant Loco Pilot and Technician.
Apply Mode
Online
Category
Central Government Jobs
Job Location
All over India.
Official Website
www.indianrailways.gov.in
RRB ALP Recruitment Notification 2021 has released for vacancies. The lakhs of job hunters have applied for this latest Indian Railways Recruitment. Now, all those applied candidates are eagerly searching for the RRB ALP Syllabus. Therefore, there is no need to search several websites to check the Railway Assistant Loco Pilot Syllabus 2021. Here we have provided the RRB ALP New Syllabus 2021 along with the Exam Pattern. We hope this will help you in Preparation for RRB ALP Exam 2021.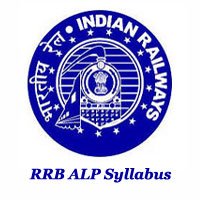 Railway Recruitment Board ALP Syllabus 2021
Railway Recruitment Board is one of the Indian Government Organization set up by the Ministry of Railways. The RRB is responsible for the appointment of new employees to work in Indian Railways for various departments. It manages a total of 21 railway zones situated in different parts of India. For any railway zones vacancies, RRB recruitment notifications releases. Common Written Exams are conducted for all applied candidates to select eligible candidates. For this exam, Railway Recruitment Board also has its own syllabus for each post. It asks questions from the related subjects only. So it is better to check RRB Syllabus before going to attending any railway exam 2021.
RRB Assistant Loco Pilot Syllabus – Railway ALP Syllabus
This year Railway Assistant Loco Pilot Exams is going to conduct through online mode. Applied aspirants who are preparing for the RRB ALP Exam should be ready to take the online exam. Although the RRB exam is a computer-based test, the Loco Pilot Syllabus is not going to be changed from last year. It is the same as previous exams. For the candidate's reference purpose, here we have provided the Latest RRB ALP Syllabus 2021 along with the Question Paper Pattern. So check the Railway Recruitment Board Assistant Loco Pilot Syllabus 2021 to know the topics that are going to be covered on the exam and prepare well for the ALP Exam.
Railway Asst Loco Pilot Exam Pattern 2021
Exam Type
Subject
 No of Questions
Maximum Marks
Total Duration
Objective Type

(Computer Based)

General Awareness
25
25
90 Minutes
Arithmetic
20
20
General Intelligence
05
05
Reasoning
10
10
General Science
30
30
Technical Ability
30
30
Total
120
120
90 Minutes
Along with the Loco Pilot RRB Syllabus 2021, knowing the Exam Pattern will help you to manage your time in the Exam. It helps you to know how many sections available in the exam, no. of questions for each section, and the duration of the exam. So if you know the section that carries maximum marks in the Railway Loco Pilot Exam you can allocate more time to prepare for that section. So check the complete RRB ALP Syllabus along with the Exam Pattern before going to attend the Exam ALP Exam.
Railway Recruitment Board ALP Loco Pilot Exam contains one paper with Objective type Multiple choice questions from various Subjects.
RRB Loco Pilot Exam consists of 120 Questions.
Each question carries one mark and the total exam is conducted for 120 Marks.
The Exam is an Objective Type Multiple Choice Question, which means you need to select one answer from the given five options.
Negative Marking is applicable.
Railway ALP Exam duration is 90 minutes.
Download RRB Asst Loco Pilot Syllabus 2021 Pdf @ indianrailways.gov.in
Candidates must refer to the RRB Assistant Loco Pilot Syllabus 2021 to know the topics from which the questions asked in the Exam. If you know the important topics that are going to be covered in the RRB ALP Loco Pilot exam you can plan your preparation accordingly. For the convenience of the candidates here we have provided the complete RRB ALP Syllabus. Aspirants can attain the Railway Loco Pilot Syllabus 2021 in words/ Pdf format. Free download links of Railway ALP Syllabus Pdf are available below.
Also, Check
Railway ALP General Awareness Syllabus – RRB Exam GK Topics
Current Affairs (National and International).
Major Financial/Economic News.
Important Days.
Books and Authors.
Sports.
Abbreviations.
Science – Inventions and Discoveries.
Awards and Honors.
Budget and Five Year Plans.
International and National Organizations.
RRB ALP General Intelligence Syllabus 2021 – Railway Exam Topics
Figures and Pictures.
Analogies.
Differences.
Space Visualization.
Similarities.
Problem-Solving.
Decision Making.
Analysis.
Arithmetical Number Series.
Judgment.
Arithmetical Reasoning.
Relationship Concepts.
Verbal and Figure Classification.
Visual memory.
Observation.
Discrimination.
RRB ALP Syllabus for Arithmetic – Railway Exam Aptitude Topics
Number System.
Simplification.
Decimal Fractions.
HCF, LCM.
Percentage.
Ratio and Proportions.
Unitary Method.
Time and Work.
Time and Distance.
Averages.
Profit and Loss.
Algebra.
Simple and Compound Interest.
Mensuration (2D and 3D).
Data Interpretation.
RRB Assistant Loco Pilot Reasoning Syllabus 2021
VERBAL
Number Series.
Alphabet Series.
Coding-Decoding.
Test of Direction Sense.
Arithmetical Reasoning.
Number Ranking.
Blood Relations.
A problem with Age Calculation.
Analogy.
Decision Making etc.
NON-VERBAL
Non-Verbal Series.
Mirror Images.
Cubes and Dice.
Grouping Identical Figures.
Embedded Figures etc.
RRB ALP Syllabus for General Science
Physics.
Environmental Studies.
Chemistry.
Biology etc.
Railway Assistant Loco Pilot Syllabus 2021 for Technical Subjects
Electrical 
Electrical India.
Rolls, Cables.
Transfers.
Proved To Be The Fundamental Electrical System.
An Alternative System Single Phase Motor.
Three Phase Motor System.
Light, Magnetism.
Motors.
Electronics and Communication
The Transistor.
Dias.
Digital Electronics.
Networking And Industrial Electronics.
Electronic Tube.
Semi-Conductor Physics.
Robotic Radio Communications Systems And Satellite Matters.
Computer And Micro Processor.
Mechanical
Dimensions.
Heat.
Engine.
Thermo Dynamics.
Energy, Material.
Energy Conservation.
Management.
Applied Mechanics.
Turbo Machinery.
Production Engineering.
Automation Engineering.
Kinetic Theory.
The Strength Of The Material.
Metallurgical.
Metal Handling.
Refrigerators And Air Conditioned.
Automobile
Machine Design.
System Theory.
IC Engines.
Heat Transfer.
Thermo Dynamics.
Materials Applying Motion.
The Power Plant Turbines and Boilers.
Metallurgical Production Technology.
Direct link to Download RRB Syllabus for Assistant Loco Pilot
Candidates can download RRB ALP Official Syllabus pdf 2021 on this page. Just click on the below link to obtain the Railway ALP Syllabus Pdf. Keep Visiting our site to get Updated RRB Assistant Loco Pilot Syllabus 2021. You can also check RRB Syllabus for various Railway jobs on our website.
If you have any questions about RRB ALP Syllabus 2021., you can ask us in the comment box below. Please share this article with your friend. thanks for visiting examsyllabus.co.in